Unleash the Audio
Sound is essential to bring a game to life.
Audio is often an underestimated component of video games, but one that from past experience we knew would be critical for Röki.
We want to put you (the player) into the strange world you'll be exploring alongside Tove. Not only do we want this world to have a strong sense of place but we also want it to drip atmosphere and otherworldly vibes.
We're also making a game with an emotional core; it's the story of a broken family, of dysfunctional relationships, of past pain and of reconciliation. As such, it's safe to say audio is going to play a huge part in conveying the emotional arcs in Röki.
Early Tests
From an very early point the project we ran Tove around the ancient wilderness (it was built in fabulous greybox at that point, so you had to use your imagination a little) and added some placeholder library music into the mix.
The impact on how the game felt was remarkable. A silent trek through the woods was suddenly a journey loaded with emotion and mystery. We did these tests at the very start of the project and were greatly encouraged that a simple jog though the woods could instantly be transformed into a dramatic event.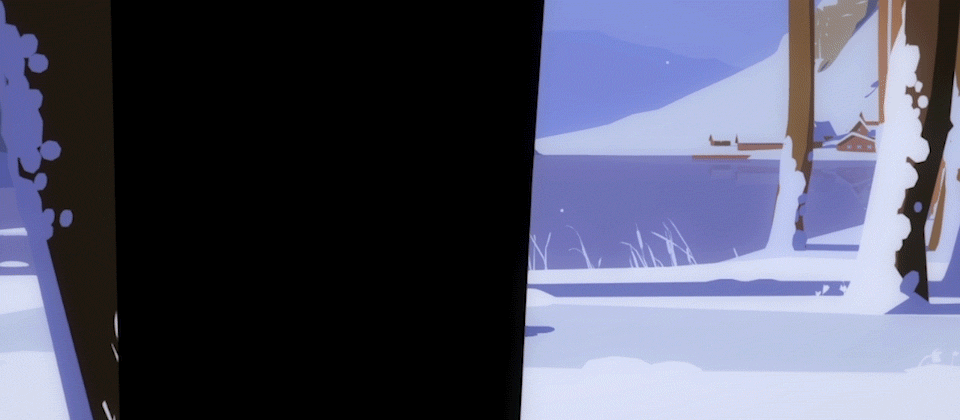 The prospect of how the game would feel with music and sound design created and tailored specifically to Röki was something that excited us a great deal; A soundscape not just to complement and enhance its settings, inhabitants and emotions, but one to be a key player in defining the tone and vision for a game equal in it's artistic and design importance.
Interest
In the period following the game's announcement by Eurogamer & Kotaku we received a great deal of contact from composers and sound designers. I think we did a good job of piquing people's interest, but even so we were pretty blown away by the level of emails we received. The standard was amazing and the fact that these super talented people were very passionate about getting involved with the game got us both pretty excited.
We set about listening to their work and drew up a shortlist of our favored candidates who we thought would be a good fit. A short pitch process followed, with the shortlisted composers working to a written brief to compose music to a video of placeholder vertical slice footage. After narrowing our scope further we jumped on Skype chats so we could get to know them a little face to face (or screen to screen) and discuss the nature of the project and the meaning of life (mainly the nature of the project TBH).
We were left with a pretty mega shortlist and all the relevant information to hand we would need to go about deciding who was the best fit for Röki.
We then sat on it for a while.
Time to Solidify
We'd been proactive in getting the process underway, so we had time to let the game mature and solidify before making the call. We didn't want to rush, we wanted to take our time and make sure we had the right collaborators to give Röki a unique voice, elevating the polygons and pixels into something dynamic and magical.
Whilst we're still in talks with publishing partners for the game, once we received word that we had secured funding from the UK Games Fund (YAY!) we decided to pull the trigger and begin the audio adventure.
Drum Roll...
So were super stoked to announce that our audio collaborators for Röki are Aether (composer) and Ali (Sound Design).
We'll have blog posts in the coming week, so you can get to know them a little bit more rather than me rambling on about how great they are I'll let you hear for yourselves with a selection of their works below.
Aether - Composer
Aether (also known as Jason) impressed us with his unique haunting and atmospheric music. We wanted a contemporary unique soundtrack to Röki, we were keen to avoid an orchestral score, and Tom and I both gravitated strongly to his work. We were both very excited to discover his work and have him join us on our adventure.
Ali Tocher - Sound Designer
We first met Ali at our first Bafta Crew meet 'n' greet and we subsequently met up with him a number of times, both at BAFTA Crew events and at Develop in his home town of Brighton (current home town, he's originally from New Zealand). We discovered that we were on the same wavelength and he quickly had an intrinsic understanding of where we were coming from. He also specializes in narrative titles, so he brings a great deal to the table in that apsect. Another areas we were keen to push with Röki's soundscape was dynamic/non-linear music; In short music that, rather than being a linear traditional track, can evolve and change along with the game experience (you can see some examples of this in his videos below). In short, magic!
We hope you enjoyed that brief audio tour, please join us in welcoming both Ali and Jason to the project!
So we'll wrap in up there for this week. Getting Aether and Ali on board has been a pretty big step on our journey and we look forward to sharing more of their audible treats with you in the future.
Have a great weekend everyone,
Cheers,
Alex & Tom